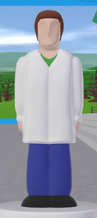 DieselD199 is the creator of Tomica Thomas and Friends.
Bio in Tomica Thomas and Friends
DieselD199 was the narrator of the series, becoming less pervasive as the shorts transitioned to CGI. After being accused of being a sell out by Thomas and Percy, DieselD199 speaks again, justifying his choices as being artistic in nature. However, Thomas continues to mock him, at this point he uses his powers as creator to zap Thomas with a bolt of lightning. However, the Thomas he zapped was merely a decoy, and the real Thomas calls upon the power of Lady to bring DieselD199 in their world. Upon his arrival in Capsule Plarail mini figure form, he is pursued by Thomas, Percy and Lady.
Appearances
Trivia
DieselD199 has been on YouTube for over 10 years.
He is part of the Thomas Creator Collective.
He narrated all of his shorts until the CGI switch-over.
He is the second real-life person to appear in his own shorts, the first being Andrew Brenner.